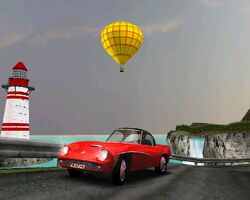 The FSO Syrena Sport was a prototype sports car developed by Polish firm FSO, between 1957 and 1960. It was originally built as a test-bed for the Syrena sedan, which had been in production since 1955. This car took styling cues from many popular sports cars of its time (for example, the rear end was heavily based on the Mercedes-Benz 190 SL), and is still considered the most beautiful Polish car ever built. Unfortunately the car never made it into production due to economic and political reasons.
The Syrena Sport is a car included in HQTM Team's Classic Madness mod. It replaces the Panoz Roadster. It is one of two Polish vehicles in the mod (HQTM Team is based in Poland), along with the Jelcz MEX 272.
Top Speed: 75 mph
Horsepower: 50 bhp
Mass: 1,565 lbs
Durability: Very Low
The final race in San Francisco was renamed to Syrena Pressure as seen on the loading screen before the race. In the main menu however, the race still goes by the name of Panoz Pressure from the original game.
Community content is available under
CC-BY-SA
unless otherwise noted.