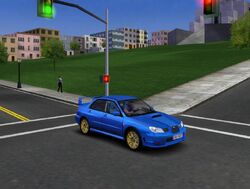 The 2006 Subaru Impreza WRX STi is an add-on car availible for download at Midtown Madness 2 eXtreme. It has been downloaded over 21,000 times, and was uploaded by HQTM Team on July 29th 2005.[1]
The car has a realistic, scratch-made model with semi-transparent windows, 3D wheels, damage textures, breakable parts, seven different paint jobs, moving wipers (in the rain), a realistic interior, 2D dashboard with a night version, and a very realistic performance.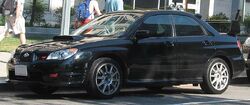 The Subaru Impreza WRX STi is the highest trim in the Subaru Impreza compact car line. It started production in 1992, and the Subaru World Rally Team has used a race-prepared version of the WRX STi as its rally platform since the car's creation. In 2000, the Impreza line recieved a complete update, with new features including: the chassis was stiffened so that it had 120% torsional stiffness increase, the interior was updated with a STi logo on the guage, and the STi's tachometer also got a red shift light. The second-generation WRX STi lasted until 2008, to be replaced by the third-generation version. This recieved a higher degree of parts to differentiate it from its Impreza WRX brethren.
Top Speed: 174 mph
Horsepower: 280 bhp
Mass: 2734 lbs
Durability: Low
WR Blue Mica
Crystal Grey
Obsidian Black Pearl
Pure White
STi Blue
Crazy Lime
HQTM Orange
The following are add-on colours, that can be downloaded from HQTM Team's website, and put into the game using MM2 Car Skin Changer:
Flame (additional)
Diamond Art (additional)
AMD (additional)
Intel Inside (additional)
Dark Red (by Jose)
Postrzelony (by Frost)
Green Black (by Mysza)
555 WRX (by Mysza)
WRC Blue (by Paul167)
Okocim Palone (by Paul167)
RMF FM (by Znag)
Race White (by Znag)
RMF (by Viper)
Mobil 1 Racing (by Paul167)
WRC Black (by Paul167)
DHL (by Viper)
Sparco (by Paul167)
Orange (by Dziki)
Orange Carbon (by Dziki)
Community content is available under
CC-BY-SA
unless otherwise noted.