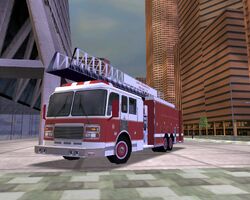 The Silver Eagle Fire Truck is a vehicle that was originally intended to be included in Midtown Madness 2 as a backup if the "trailer-system" failed to work. Obviously, the system did work so the vehicle was replaced by the articulated American LaFrance Fire Truck. This single fire truck can still be used with the help of the MM2 Revisited mod (V4 or later) or by downloading it as a separate .AR file from The Midtown Madness Archive [1]. Using the siren is known to cause game crashes if used with some add-on vehicles that have sirens and if their "addonvehtype.ar" files don't have "vpeagle" listed in it.
American LaFrance has been producing firefighting equipment since 1873 and fire engines since 1903. Over the years, it has made many different types of firefighting vehicles, from airport crash turcks to aerial ladders trucks, such as the American LaFrance Type 700 of the 1950s. In 1995, Freightliner bought out American LaFrance, along with other commercial vehicle brands. It was in this period that the Freightliner Century, Freightliner FLD 120 Classic XL, American LaFrance Fire Truck and Silver Eagle Fire Truck were produced. In 2005, rights to LaFrance were once again sold to Patriach Partners, who still used the same plant, until Daimler Chrysler started using it as an assembly line for the Dodge/Freightliner Sprinter, a rebranded Mercedes-Benz Sprinter. In early 2008, American LaFrance was filed for bankruptcy, but recovered later that year under a new initiative to spread the vehicles' production across the US.
This fire truck is almost indestructible, but its top speed and cornering leave a lot to be desired.
Top Speed: 100 mph
Horsepower: 500 bhp
Mass: 30,000 lbs
Durability: Very High
Red
Yellow
Green
Dalmatian (originally planned to be an unlockable paint job during the game's development)
Light Blue
Orange
Purple
White
Silver
Lime Green
Pink
Black
Community content is available under
CC-BY-SA
unless otherwise noted.