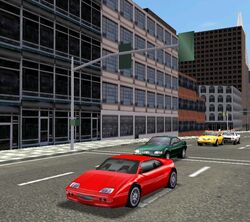 The
Red Rocket
(known in real-life as the 
Ferrari F355)
 is an add-on car available on The
Midtown Madness Archive
[1]
and in
MM2 Revisited
V5. This car was originally included in the Midtown Madness Vehicle Creation Kit created by Angel Studios. It was later converted to
Midtown Madness 2
by HPB_Forever. The Red Rocket was originally supposed to be a Ferrari F355 included with Midtown Madness, but was cut due to licensing issues. The front and back of the vehicle was modified to avoid licensing issues with Ferrari again when included in the Vehicle Creation Kit. Traces of "vpfer" can still be found in the core.ar file of Midtown Madness 1.
This car has all the standard features like any other car created by Angel Studios. The dashboard was actually taken from the Cadillac Eldorado Touring Coupe, but slightly modified. This car also uses the unused Camaro sounds.
On April 30th, 2014, a patch for the Red Rocket in MM2 Revisted V5 was uploaded by GKRC on Midtown Madness 2 eXtreme. The patch made changes to the textures and tuning of the Red Rocket to make it resemble the Ferrari F355, complete with a dashboard made by Sajmon14.
On May 10th, 2014, Supersecret uploaded an edited and improved version of GKRC's patch as a standalone add-on car, with differences such as four additional colors, new sounds and the rear window has also been changed.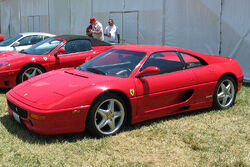 The Ferrari F355 is a sports car built by Ferrari from May 1994 to 1999. It is an evolution of the Ferrari 348 and was replaced by the Ferrari 360. It is a mid-engined, rear wheel drive V8-powered 2-seat coupe. One major difference between the V8 in the 348 and that in the F355, apart from the displacement increase from 3.4 to 3.5 L, is that the F355 features a 5-valve per-cylinder head that is considerably more powerful, producing 380 PS (279 kW; 375 hp). The longitudinal 90° V8 engine was bored 2mm over the 348's engine (85 mm rather than 83 mm) to achieve the modest increase in displacement to of 3495.50 cc.
In-Game Description
Edit
This car has a lot of power under the hood, but the average handling and low durability can make it a challenge to drive.
Top Speed: 207 mph
Horsepower: 375 bhp
Mass: 2,976 lbs
Durability: Very Low
Available Colours
Edit
The original Red Rocket only included "Red" as a colour. "Electric Lime" was the extra color included with HPB_Forever's Red Rocket conversion.
Really Red
Very Blue
Electric Lime
Brilliant Yellow
Turquoise Blue
Electric Lemon
Magenta
Green
Black
White
Silver
Gray
Orange
Violet
Dark Blue
Community content is available under
CC-BY-SA
unless otherwise noted.