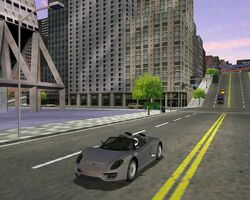 The Porsche 918 Spyder is an add-on car available for download on Midtown Madness 2 eXtreme [1]. It has been downloaded over 1,000 times, and was uploaded by Midtown Madness 2 Riva on June 15th, 2011.
The car features a very detailed model converted from the one used on Need for Speed: Hot Pursuit, with a very good dashboard, realistic tuning, new sounds, one colour, and damages without effects.
The Porsche 918 Spyder is a limited production supercar announced by Porsche to be produced in the near future. It was first shown as a concept at the 80th Geneva Motor Show in March 2010. The car is the first plug-in hybrid from Porsche. It is powered by a V8 engine using "only" 3.4 litres, however it produces 500 bhp - and three electric motors can bring the power up to 718 bhp. Two electric motors drive the front wheels directly through a fixed ratio while a third electric motor is connected to the transmission and gives additional power to the rear wheels. This gives the 918 Spyder a top speed of over 200 mph. The 918 RSR, a racing variant, was unveiled at the 2011 Auto Show by Porsche. The 918 RSR's V8 is a further development of the direct injection engine from the RS Spyder race car developing 563 bhp. The electric motors on the two front wheels each provide an additional 102 bhp giving a peak power output of 767 bhp.
Top Speed: 200 mph
Horsepower: 718 bhp
Mass: 3,300 lbs
Durability: Low
Community content is available under
CC-BY-SA
unless otherwise noted.