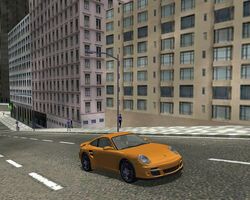 The Porsche 911 Turbo is an add-on car availible for download at
Midtown Madness 2 eXtreme
[1]
. It was uploaded by
Midtown Madness 2 Riva
on October 18th 2009, and has been downloaded over 3,000 times.
The car features a good model, converted from Need for Speed: Undercover with semi-transparent windows, damage textures, breakable parts, five different paint jobs, a dashboard made made by José Arnaldo, a realistic interior, realistic sounds, and a great tuning/performance.
The Porsche 911 (nine-eleven) is a sports coupe made by Porsche since 1963. The first 911 Classic lasted from 1963 till 1989, and also availible during then was the Carrera RS, 2.7- series, a Turbo version, the 911SC, and the 3.2 Carrera series. The 964 Series lasted from 1990 till 1993, and then there was the 993 Series, which lasted till 1997. For racing cars, the 996 GT1 was devloped in 1996, and 25 road-going models were made. The 996 GT1 was succeeded by the
Carrera GT
. The 996 Series lasted from 1998 till 2004, as did the 996 GT3. What followed was the 996 Turbo and 997 Series, including the 997 Turbo (the model made for MM2 by
Riva
). The 997 GT3, 997 GT3 RS, and 997 GT2 were also launched. The most recent model is the 991 Series.
Top Speed: 195 mph
Horsepower: 500 bhp
Mass: 3,494 lbs
Durability: Low
Availible ColoursEdit
Indien
Carrara
Vitesse
Black
Artigue
Rubis
Aquatique
Boreal
Malachite
Meteor