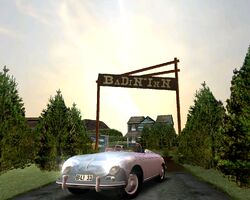 The Porsche 356 Speedster is a car included in HQTM Team's Classic Madness mod. It replaces the Audi TT, with this similarly-styled sports car. It is unlocked through completing five San Francisco Checkpoint races.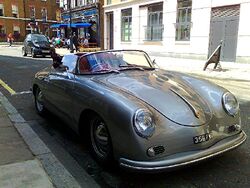 The Porsche 356 was originally designed as one of three race cars for a grand "Berlin to Rome" race, originally planned for 1939, but was cancelled due to the outbreak of World War II. The plans for the "Type 1" race car were picked up by Ferdinand Porsche Jr (son of Dr Ferdinand Porsche, who designed the Volkswagen Beetle) in 1948 and turned them into a road-legal sports car, the Porsche 356. The Speedster was a prestigious convertible version of the 356, conceived by Max Hoffman, the American importer of European cars, who also made the original plans for the BMW 507 and Mercedes-Benz 300 SL. Although the 356 ended production in 1965, its legacy lives on in the Porsche 911, which remains as the brand's major sports car line.
Top Speed: 125 mph
Horsepower: 115 bhp
Mass: 1,700 lbs
Durability: Low
Community content is available under
CC-BY-SA
unless otherwise noted.