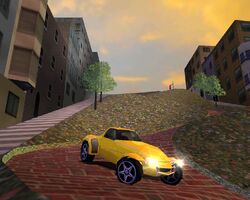 The
Panoz AIV Roadster
was a variant of the original Panoz Roadster, released in 1996, which consisted of an entirely aluminium construction and used the engine from the fourth-generation
Ford Mustang
. By 1999, 176 AIV Roadsters had been made. Since then, Panoz has focused on its development of the Esperante road car, on which the
Panoz GTR-1
is based.
The Panoz Roadster is a car unlocked from the very first time you play Midtown Madness 2 or Midtown Madness 1. It is one of the fastest standard vehicles in the game (behind the Panoz GTR-1), and the fastest that is unlocked by default.
In-Game Description
Edit
The Roadster's top speed makes it great for paved streets, but don't hit anything or you'll be finished in a hurry!
Top Speed: 178 mph
Horsepower: 305 bhp
Mass: 2,595 lbs
Durability: Very Low
Available Colors
Edit
Yellow
Silver
Blue
Red
Purple (made available in MM2 through use of MM2 Revisited)
Green (made available in MM2 through use of MM2 Revisited)
NialBlack's Color Mod
Edit
White
Orange
Black
Dark Red
Pink
Light Blue
Lime Green
In HQTM Team's Classic Madness mod, the Panoz Roadster is replaced by the Syrena Sport, a prototype sports car built in Poland.
In the game, the Panoz Roadster is a hard top, despite being an open top in real life. This is most likely due to modeling limitations, despite custom convertible cars being made by users for Midtown Madness 2.
It has new engine sounds in Midtown Madness 2, though the older ones can be used through modding.
The Panoz Roadster is mistakenly a front-wheel drive in Midtown Madness 2, when it should be rear-wheel drive. The irony of this error is that the car still has poor handling and severe oversteer if one makes a sharp turn.
The front and rear bumpers float in front of each side of the car.
Unlike in the original Midtown Madness, the Panoz Roadster's front fenders are not visible in dashboard view.
In the early beta versions of Midtown Madness 2, this car has a different selection sound effect. In the final version, the one from Midtown Madness 1 was restored.
The cut purple and green colors were only featured in the early beta versions of Midtown Madness 1, so this was one of the only vehicles in MM1 to have additional paint jobs in the beta versions of it but were cut from its final version, along with the Freightliner Century.
The only other game besides the first two Midtown Madness installments that the Panoz AIV Roadster appears in is rFactor 2, where it is available as an add-on for the game.
Community content is available under
CC-BY-SA
unless otherwise noted.