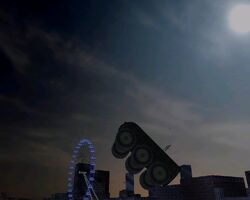 The Moon Rover is a vehicle that could have been included in Midtown Madness 2, or was simply a test vehicle, but was cut from the game before its final release. Angel Studios claims that "it burned in a launch pad accident," but no other official words have been spoken on the matter. It is of no relation to NASA's Moon Rover, but does use unique damage effects, unlike other vehicles in the game, yet no body distortion is present. It reuses the sound effects from the Panoz GTR-1 (if installed with MM2 Revisited V4 or later, it uses its own engine sound for itself) and the wheel textures were reused from the Light Tactical Vehicle. You can still use this unusual vehicle, with the help of the MM2 Revisited mod (V4 or later), or by downloading HPB_Forever's Moon Rover [1] from The Midtown Madness Archive, or by downloading Dummiesboy's Moon Rover V2[2], which has been released on Midtown Madness 2 eXtreme, with additional colors, tuning and sound effects.
In-Game Description
Edit
Not very fast, but the small design and six wheels will get you through any alley, or climb any hill with ease.
Top Speed: 106 mph (if limited to 100 mph, it can reach 97-98 mph)
Horsepower: 55 or 60 (unoffical)
Mass: Lighter than 1,200 lbs
Durability: Medium
Available Colors
Edit
MM2 Revisited V4/V5 and HPB_Forever's version:
Moon Rover V2:
Classic Black
Blue
Red
Green
Silver
White
John Deere
Camouflage
Got Milk?