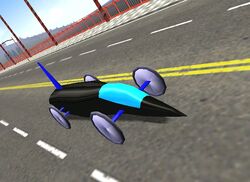 Molki's Record Car is a world-record car designed by Molki of MM2 France. It was uploaded to the Midtown Madness Archive[1] on October 28th, 2007 and is potentially the fastest car ever seen in Midtown Madness 2.
It's body likes a "sharpened torpedo" with a huge spoiler and straight rear. It is the "best" car was made for Midtown Madness 2, but sadly there are no version was made for original Midtown Madness. It is incredibly massive, when it is crashed to a light traffic car (example: Sedan), it can let the crashed traffic car flying to a far distance.
Also, it can reachable to more higher speeds than 650 mph in Golden Gate Bridge. Likes its features, it is a excellent racer (it can destroy all of the opponents and become first), but not the perfect. The perfect racer is in-game Panoz GTR-1, the Molki's Record Car is second, because it can become uncontrollable sometimes. It can reach to 1,118 mph without the unique "NOS Hack", so it is the no #1 speeder of the game and the world.
There are no vehicles could come as rivals for Molki's Record Car. Because it is "unrivalable" vehicle of Midtown Madness 2 and there are just only one vehicle is both of unbreakable and able to destroy the non-solid objects, the Molki's Record Car.
Top Speed: 1,118 mph (if there are no speed limits, it can reach to 1,300+ mph)
Horsepower: 10,000 bhp
Mass: 100,000+ lbs
Durability: Unbreakable
Transmission: 6 speed A-Type
Age: 9 (known)
Successor: DEV-1 (maybe released on between mid-2014 and early 2015)
Community content is available under
CC-BY-SA
unless otherwise noted.