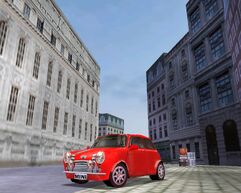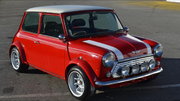 The Mini Cooper is a performance variant of the original Mini produced from 1959 to 2000 by the British Motor Corporation and its successors. It is considered an icon of 1960's British pop culture. It was voted the second most influential car of the 20th Century in 1999. It, along with the Cooper S were successful in racing and rallying, winning the Monte Carlo rally in 1964, 1965 and 1967.
Top Speed: 105 mph
Horsepower: 250
Mass: 800
Durability: 187500 (Very Low)
"The Mini makes a sidewalk into a highway, but its limited power and durability are a mini challenge." - In game description
The Mini Cooper Classic seems to serve as a starter vehicle, unlocked from the beginning. It appears as an opponent vehicle in early races, particularly in London. Since there's faster vehicles already available from the beginning of the game, the Mini Cooper Classic tends to be overlooked. However it can be used in Professional mode for gaining extra points.
In HQTM Team's Classic Madness, it is replaced by the Morris Mini Minor. Aside from aesthetics, the car's tuning remains unchanged. A non-playable police cruiser version of the Morris Mini Minor appears in London, replacing the Ford Mustang Cruiser.
In 2013, the Mini Cooper Classic was converted to the original Midtown Madness by Toty.
There are some addon vehicles based on the Mini Cooper Classic, such as the Monster Mini; a massive scaled up version with knobbly tires and the Rally Mini Classic which is an edited version by Aaro4130 made to resemble the Monte Carlo Mini Cooper S.
Flame Red
British Racing Green
Volcano
Tahiti Blue (The front and back textures have a different shade of blue from the sides in vanilla MM2, but this was fixed in MM2 Revisited.
Spoon! (unlocked through completion of Midterm 3 of the London Crash Course)
This is one of the only two player-driven vehicles to be featured in the demo/trial version of Midtown Madness 2, alongside the Ford Mustang Fastback.
In the alpha version of the game, this car only reused sound effects from the VW New Beetle since it didn't have its own sound effects yet. This has been noticed in the game's trailer.
Going by the vehicle showcase picture, the Mini Cooper Classic is based on a MkVII Mini, presumably from 1999. However the taillights are from the original Mini from the 1960s. This has led to some debate on what model year the Mini Cooper Classic is based on. Ultimately however, a Mini Classic Cooper existed, which is a MkVII from 1999.
In the London checkpoint race, Circuit Within, there is a circuit race near the end of the course with Mini Cooper Classics.
Community content is available under
CC-BY-SA
unless otherwise noted.