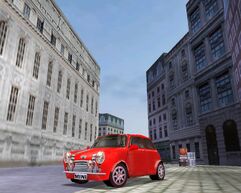 The Mini Cooper Classic is a standard car. It is unlocked by default, and it is one of the smallest vehicles in Midtown Madness 2. In HQTM Team's Classic Madness, it is replaced by the Morris Mini Minor.
The Mini began life as BMC's Austin Seven and Morris Mini Minor (Austin/Morris 850 in the US) designed by Sir Alec Issigonis in 1959. In 1961, the Seven was rebranded as the Austin Mini (with the Morris Mini following shortly afterwards), and a legend was born. In the same year, BMC started work on the Austin/Morris Mini Cooper (on which the Mini Cooper Classic is based), a performance model that featured a larger engine. In 1963, the Mini Cooper S was developed, a racing version that went on to win many rallies, notably the Monte Carlo rally, which it won a total of three times, between 1964 and 1967. In 1969, the Austin and Morris names were dropped, forming the Mini marque.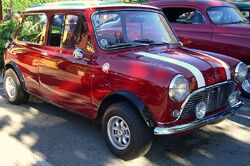 In the 1980s, Rover took over the Mini's production from BMC, but it wasn't until 2000 that the car was dropped completely. In 2000, BMW bought the rights to the Mini name and started production on the
New Mini Cooper and
Mini One in 2001, which was much larger and spacious than its predecessor in order to keep up with modern competitors. In 2007, this recieved a facelift, before the introduction of the Clubman estate car and Countryman SUV in 2008 and 2010 respectively.
Top Speed: 105 mph
Horsepower: 63 bhp
Mass: 1,576 lbs
Durability: Very Low
In-Game Description
Edit
The Mini makes a sidewalk into a highway, but its limited power and durability are a mini challenge.
Available Colours
Edit
Flame Red
British Racing Green
Volcano
Tahiti Blue
Spoon! (unlocked through completion of Midterm 3 of the London Crash Course)
Yellow
Purple
Mr Bean
Black
White
Silver
Dark Green
This is one of the only two player-driven vehicles to be featured in the demo/trial version of Midtown Madness 2, alongside the Ford Mustang Fastback.
The "Spoon!" paint job is a modification of the "Tathi Blue" colour, as there are two black spots which had never been removed.
In the alpha version of the game, this car only reused sound effects from the VW New Beetle since it didn't have its own sound effects yet. This has been noticed in the game's trailer.
Community content is available under
CC-BY-SA
unless otherwise noted.