Welcome!
Welcome to the Midtown Madness 2 Wiki - home to all knowledge about the classic open-world arcade racing game, Midtown Madness 2, that has attracted such a huge fan-community that many still play and develop mods for the game today, It's game engine is the Angel Studios Engine including Midtown Madness 1, Midnight Club:Street Racing and the fifth game of Midnight Club series which is a fangame called Midnight Club: Street Racing Remake Edition.
For downloads and other help, visit Midtown Madness 2 eXtreme, Midtown Madness 2 Central or The Midtown Madness Archive
Featured Article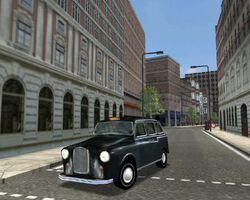 The London Cab is one of the first cars you can drive in Midtown Madness 2. It is based on the real-life Austin FX4, which was London's most popular taxi model from 1958 to 1997.
In the game, the cab is most memorable as the default vehicle for the East End Cab Company School Of Driving, where the player performs several insane stunts as a surreal form of the classic cab driver.
In HQTM Team's Classic Madness, the Austin FX4 gets a detailed remodeling, which adds two new paint jobs.
Current Projects
This place has been fairly quiet since a vandal recently trashed the site. However, thanks to our team of devoted members, the Wiki is now back to its original condition. If you find any pages that are still in a poor state, put a note on my talk page, or even try to salvage the page yourself.
Otherwise, there are still millions of cars, cities and other mods to write about, while any of the existing articles may need some improvements. In particular, many new pages are absent of any images, but a simple screenshot will be enough to bring the pages to a higher standard.
Happy Writing!
Tuppence870 (talk) 10:33, March 1, 2013 (UTC)
Writing your topic
Some tips to writing a perfect topic:
1. Check there isn't already a topic about it using the search bar - just because there isn't an article of the exact same name, doesn't mean that it hasn't already been done.
2. Write a good introduction - tell people the basics of your article, so they can tell if they're on the right page.
3. Write the main body of your article - explain what it is, what it does, and how it does it. Write as much as you can about its in-game appearance and any relevance to the real world.
4. Add stats - always interesting, always quick to type.
5. Add links - keep your page connected. Add links on your page to other articles, or add links to yours via others. This gives your article publicity, allowing it to flourish.
6. Add some pictures - try to illustrate the subject of your article, both in-game and in the real world.
7. Finally, categorise it - use the little bar at the bottom of the page to put your article in the correct place. There is currently a dense network of categories used in the wiki, so look at similar articles to see what you should file yours under.
Good Luck - Tuppence870 23:14, December 29, 2011 (UTC)