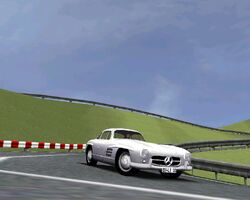 The Mercedes-Benz 300 SL is a sports car included in HQTM Team's Classic Madness mod. It replaces the default Ford Mustang GT with this iconic German supercar.
Like the BMW 507 and Porsche 356 Speedster, the Mercedes-Benz 300 SL was the brainchild of Max Hoffman, an American importer of European cars, who believed that Mercedes-Benz could profit hugely from creating a "racecar for the road." The company then worked to take its race-winning 300 SL racer (1952-53), and convert it to a street-legal form. The result, released in 1954, is still considered as one of the most iconic cars of all time, the first ever supercar and is renowned for its innovative "gullwing" doors. The SL line of cars has since evolved into a high-performance series of roadsters, still on sale today. As recently as 2010, Mercedes-Benz has tried to revive the classic 300 SL, with its new SLS AMG supercar, one of the fastest cars the brand has ever built.
Top Speed: 160 mph
Horsepower: 222 bhp
Mass: 2,410 lbs
Durability: Medium
Silver
Red
Sea Green
Black
On August 5th, 2010, Midtown Madness 2 Riva released their own version of the 1954 Mercedes-Benz 300 SL, with the model being converted from the one of Forza Motorsport 3. It uses a similar quality to the Classic Madness version, but boasts five new colours, new sounds, similar realistic tuning, and a great dashboard.
Community content is available under
CC-BY-SA
unless otherwise noted.