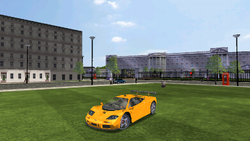 The McLaren F1 LM is an add-on car availible for download at Midtown Madness 2 eXtreme[1]. It was uploaded unfinished on April 16th 2004 by user _RicH_ and has been downloaded over 25,000 times.
Although its unfinished, the car features a great, scratch-made 3D model, with the option to choose whether the damage textures appear while downloading the car. It sometimes loses control when making sharp turns, but still handles fine. The car's model features semi-transparent windows, 3D wheels, one paintjob based on the real-life car, a realistic interior, and modified Panoz GTR-1 sounds that fit in. The performance is very realistic.
History
[
]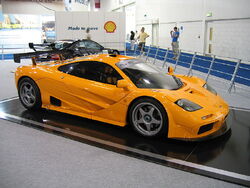 The McLaren F1 was a supercar created in 1992 by McLaren Automotive. The car held the speed record for over a decade, with 231 mph in 1994. Only five McLaren F1 LM (Le Mans) cars were ever built (plus one prototype), in honour of the five McLaren F1 GTRs which finished the 1995 24 Hours of Le Mans, including taking the overall win. The weight was reduced by about 165 lbs over the original. The F1 LM used the same engine as the 1995 F1 GTR, but without race-mandated restrictors, to produce 680 bhp. The LM is also slightly slower than the original, because of added aerodynamic drag, despite identical gear ratios. The McLaren F1 itself lasted up until 1998, and it is still recognised as perhaps the greatest supercar of all time. Since discontinuing the F1, McLaren had focussed its efforts on Formula 1 racing, until the release of the McLaren MP4-12C in 2011.
Stats
[
]
Top Speed: 225 mph
Horsepower: 680 bhp
Mass: 2341 lbs
Durability: Very Low
Availible Colours
[
]