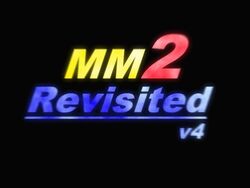 MM2 Revisted is a mod, designed as a complete overhaul of Midtown Madness 2. It was created by Midtown Madness 2 eXtreme user, Dummiesboy, and is available via their website[1]. As of today, MM2 Revisited is now top one of the most popular mods for Midtown Madness 2.
MM2 Revisited (V1)
Edit
The original version of MM2 Revisited was released on December 17th, 2008, and included the following features:
Improved visibility on distant objects
Improved sound effects in the London underground
More detailed models for certain objects, including the Bay Bridge, underground train and San Francisco trams
More sound effects for pedestrians, impacts and rainy weather
Fixes dashboard problems on certain default cars
London Cab added to default traffic (as they were only previously seen in Blitz and Checkpoint race events)
SF tram derail glitch fixed
MM2 Revisited Final (V2)
Edit
In addition to all the modifications in the original MM2 Revisited, the "Final" version had these additional features, which were released on January 17th, 2009:
Further improvement on distant objects
Several models are replaced by improved ones
All Buckingham Palace gates made destructable
Bay Bridge made accessible through a tunnel in an underground parking lot.
MM2 Revisited V3
Edit

V3 saw the biggest improvement yet, including a huge number of new effects in it, released on September 13th, 2009. It included all the features of the previous versions and these new features:
The London Eye was added, directly opposite the Houses of Parliament
New sounds, realistic lighting and a new train model were added to the London Underground
London Eye Revolution Circuit race added
Conflicts with Shader Mod 2 Gold fixed
It also included beta versions of the following content:
Seagulls that fly near water
New realistic sky textures
MM2 Revisited V4
Edit
The fourth version was released on November 7th, 2010, and was the first installment to allow players to choose what parts of the mod they wanted to install. In addition to all previous features, including updated versions of all V3 features, these new features were available as part of the main package:
Skies from V3 vastly improved.
Seagulls finished.
Sky reflections in the water.
The central area of Buckingham Palace is now accessible.
The barges from River Dancing replace the existing layout.
Extra colors for the standard vehicles, which were cut from the final release of MM2:
The number of trains in the London underground is reduced to two so that they run between stations at each end of the line, without stopping.
Tunnels in San Francisco are given a yellow glow.
London Eye Revolution removed due to profile corruption issues (the name of the custom race remains on the selection screen in V4, but was removed in the 4.1 patch).
Also, some additional packages were released:
Handling fix for the VW New Beetle Dune.
A new HUD.
Extra vehicles, which were cut from the final release of MM2:
Extra cities, which were used as early test-beds for MM2:
MM2 Revisited V5
Edit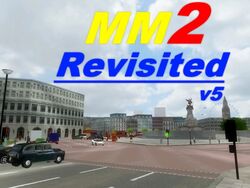 Released on August 24th, 2012, MM2 Revisited V5 is the most significant version of the mod yet. Previous versions attempted to improve graphics, but nothing beats what you'll find here. Revisited V5 is the ultimate all-in-one mod to fix issues and enhance MM2 with unused content, beta stuff and "cannon" additions to the game. And now, it makes MM2 look as good as possible. Below is a detailed list of just about everything that this mod does, down to even some of the most subtle details.
Graphics have been completely overhauled. Over 200 improved textures in both San Francisco and London and completely re-written lighting/fog files files provide the most realistic looking experience MM2 can offer.
The London Eye, a famous monument in real life, has been added into the game. You can find it across the river from Big Ben. (Yes, London seriously has a giant ferris wheel in it.)
A few existing landmarks have been remodeled. For example, the fountain by the Hyatt Hotel in San Francisco now has water coming out of it! The Bay Bridge has been improved too, but unlike previous versions of the mod, you can no longer drive down it because the uploader honestly never liked how it was done, thinking that it looked bad. However, the .ar file for it is also included as optional, bonus content and can still be enabled. Also, Buckingham Palace in London is now enterable, and all gates around it can be busted down!
More variety in many areas of the game has been added. These include anything from unused traffic/pedestrian sounds, to some unused ambient sounds, to the sound effects your car makes while skidding on cobblestone or driving through water. You'll even see some new objects placed around the world, like some new signs in London, or perhaps even a toxic waste dump hidden somewhere in San Francisco.
Speaking of more variety, you will now hear new sound effects while driving on various surfaces. Driving on cobblestone will produce a small bumpy sound, and skidding on it also has a new sound. You can now hear the water ripples of driving through water. You can even hear the sound of tires moving on asphalt while driving fast, if you listen closely enough!
Default cars now have every paint job ever made for them by Angel Studios, including various unused or beta specific paint jobs. Four paint jobs were also added (two for the Freightliner Century and two for the Panoz AIV Roadster) that mimick what they looked like in the MM1 beta. CarLuver69 also made a custom paint job for the Cadillac Eldorado that mimicks the color you see in both the showcase for it and the loading screen for SF!
Default cars also have proper dash views now. They no longer take forever to pan downward or upward while driving over a hill, and the steering wheels on all cars turn more like they did in MM1. They are also all in the right positions now, so no more having a dash from the floor of the LTV, for example.
Default vehicles (and cut vehicles) now have rear view mirrors that extend to the normal game draw distance, instead of only 20 feet behind you!
The Ford Mustang Fastback uses its original body design and a license plate from the early beta versions of Midtown Madness 1.
The model for the SF hudmap has been remade, correcting several issues it had, and actually depicting Marin County accurately.
Several buildings have been improved, including removing artifacts on some buildings, fixing LOD on dozens of buildings, fixing shading on the Chinagate in SF, and adding lights back onto the Golden Gate Bridge in SF and Tower Bridge in London!
You can now see seagulls flying around areas near water in both cities. You could always hear them, so why not see them too?
The cut Minivan and Pickup truck traffic vehicles have been improved and added into the game! The pickup truck is only in SF, while the Minivan is in both cities.
The London Underground now has completely different sounds in it. The stations now have a slight hum from the lights, and you will occasionally hear a message over the PA. Trains also sound much more realistic.
One of the announcers in SF, officially named "US Sportscaster" (as heard in the placeholder voice clips for the early beta versions of MM2), now has his proper voices for Cruise mode. Therefore, some unused voice clips have been restored.

Warning: An unused audio clip contains mild language, which was originally planned to be used in London when the player crashes into a traffic vehicle, but fortunately, by default, it never plays, but is now restored in this mod! Listen at your own risk!
Some sound effects have been modified, including cable car sounds (using different, unused ones), and suspension sounds. Rain is also louder now.
An unused song, Groover, has been added to the Cruise song list. (If you even listen to the music, that is.)
The models for some default vehicles have been improved to remove errors and look better.
You know that annoying cop by the Ferry Building in San Francisco's cruise mode (when the traffic density is set to the default density) that would pursue you as soon as you moved forward? Yeah, he's been moved. He is now in an alley by the Hyatt Hotel.
A few leftover props have been added into the game, including things like fruit stands, signs and boxes.
Some beta objects have been added into London. These include a statue type thing near Trafalgar Square, better looking fountains there too, and better looking rails in the London Underground. A slightly more detailed facade has been added, although you probably won't notice this much.
You can now see sewer grates, or "manholes," in various places around both SF and London.
Coit Tower, the Hyatt Hotel and the large office building beside it are now properly visible around San Francisco. They no longer pop in as you get close.
A small texture error on SF's PSDL file has been corrected. The game's developers accidentally put asphalt in the area where ocean water should have been placed.
Traffic cars are now heavier and pose more danger.
Tweaked how falling into water looks. You're now partly submerged, instead of floating completely on top of it. This also gives you an ever so slight chance at grazing the water without instantly "Sleeping with the fishes."
The ferry from the first SF Crash Course mission has been added into Cruise mode, just to give that empty dock some meaning.
A minor issue related to how barges show up in the Midterm 1 London Crash Course has been resolved. There are no longer four or five intersecting barges.
Cloud shadows have been tweaked and now stay out of areas that they shouldn't be in. They also cover more ground on the Low setting now.
Small improvement on the London traffic lights. The pedestrian light backboard is now visible.
Default cars now have accurate details in the selection screen.
Grass skidding and water splashing have been tweaked. You can now see dirt being kicked up from grass, and driving through a pond now kicks up more water.
Three more extra cities, which were used as early test-beds, have been added: Banktest, J01: Son of Sleazy and LondonDave.
In addition to the 1959 Cadillac Eldorado, the Silver Eagle Fire Truck and the Moon Rover (previously added in V4), two new vehicles have been added to the game: Red Rocket and Monster Truck! All of these vehicles were originally meant to be in the MM series, but were cut out for various reasons. Now you have the opportunity to drive them.
So all in all, this mod retains the original MM2 gameplay, but fixes every possible issue and adds as much cut/beta content to the game as possible, and enhances graphics as well. This is how MM2 should have originally been released!
MM2 Revisited V5 Patch
Edit
On May 14th, 2013, a patch was released for MM2 Revisited V5. It includes a fully functional Instant Replay mode, further small improvements to the graphics, various building modeling-related improvements, new parked cars, and more.
MM2 Revisited V6
Edit
Community content is available under
CC-BY-SA
unless otherwise noted.