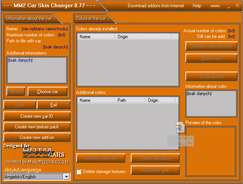 MM2 Car Skin Changer is an editor application uploaded on Midtown Madness 2 eXtreme [1] by HQTM Team on March 19th 2004, and downloaded over 12,000 times. It was designed to give a deeper experience of HQTM's cars. Extra paint jobs and miscellaneous add-ons can be downloaded from HQTM's website, and successfully installed into the game via MM2 Car Skin Changer. Also, renaming installed paint jobs and removing car damage textures can be done. It even allows you to tweak the cars and their tuning (though it wasn't designed for it; MM2 Ultimate Tweaker can easily get the job done). Creating new car IDs, new texture packs, and new add-ons is additionaly possible in the advanced mode. An entire manual comes with MM2CSC while its being installed; this features a ton of pages showing how to do advanced things with the program, and images as well.
The latest version of MM2CSC comes in five languages
English
Polski
Deutsch
Italiano
Francais
and four colours can be chosen for the background of the program:
HQTM Orange
Blue Shadow
Green Meadow
Burning Red
Community content is available under
CC-BY-SA
unless otherwise noted.