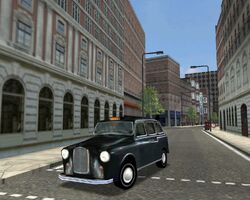 The London Cab is a standard car. It is unlocked by default. It is the car used by the player in London Crash Course lessons. It is based on the real-life Austin FX4.
The Austin FX4 was successor to the Austin FX3 taxi and has been the classic black cab since 1958. It was fitted with a Land Rover 2.2L engine and adopted indicator lights from the Austin 1100 family car. In 1968, there was a minor facelift, but following that, no styling cues were ever changed. Although originally produced by Austin themselves, Carbodies and LTI started producing their own in the early 1980s before the FX4 was replaced by the LTI TX1 in 1997. Since then, the LTI has recieved two minor updates. The first was in 2002, where it was upgraded to the TXII, and the second was in 2007, when it became the TX4.
Top Speed: 127 mph
Horsepower: 63 bhp
Mass: 3,675 lbs
Durability: Medium
In-Game Description
Edit
Small enough for the narrow alleys of London, but its limited durability means you gotta avoid the walls!
Available Colours
Edit
NialBlack's Color Mod
Edit
The Vehicle Showcase screen for this vehicle calls it "London Black Cab," although an unlockable custom paint job for it exists.
In the alpha version of the game, this car temporarily reused sound effects from the Panoz GTR-1 as it didn't have its own sound effects yet. This has been noticed in the game's trailer. This also applies to the Double-Decker Bus.
A low-poly version of this car was used in London as one of the traffic vehicles, but for unknown reasons, they're only seen in the Blitz and Checkpoint race events and the Crash Course events. Fortunately, they've been added to London's cruise mode in MM2 Revisited V5.
Classic Madness
Edit
The London Cab is the only vehicle not to be replaced by an alternative vehicle in
HQTM Team
's
Classic Madness
. Instead, it is literally a high-quality remake of the same car, with clear windows, a clear windshield, and a driver inside, plus it drives faster than the original version. Both its default paint jobs have been remade, along with two bonus colours, Red and White.
Community content is available under
CC-BY-SA
unless otherwise noted.