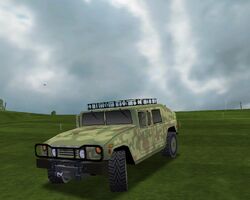 The Light Tactical Vehicle (abbreviated as LTV) is a standard vehicle that is unlocked through completing the Final Exam in the San Francisco Crash Course in Midtown Madness 2. It is based on the real-life Humvee, which is used during military events. In HQTM Team's Classic Madness mod, it is replaced by the WWII-era Jeep Willys.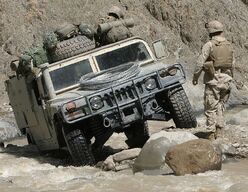 The High Mobility Multipurpose Wheeled Vehicle (HMMWV), more commonly known as the Humvee, began service in the US Armed Forces in 1984, ever since the use of civilian trucks was deemed unfit for purpose. Since then, the Humvee has seen battle in multiple warzones, under multiple governments and is still used to this date. In 1992, AM General started producing civilian Humvee's under the Hummer name, with their first model, the H1 (also the closest relative to the original Humvee), stayed in production from the firm's genesis to a limited production run 2006. In 1999, General Motors bought the rights to the Hummer marque and in 2002, the Hummer H2 was released. The H2 was an entirely new vehicle, yet was still based remotely on the Humvee's styling, that stayed in production till 2009. The H3 was introduced in 2005, which was essentially a down-sized H2, and lasted to the company's end in 2010, when GM became bankrupt, just as their vehicles are no longer sold.
Top Speed: 105 mph
Horsepower: 150 bhp
Mass: 5,200 lbs
Durability: High
Available Colors
Edit
Land War
Olive Drab
Desert Sand
Snow
No Nukes!
Wash Me! (originally cut from the final release, but made available through use of MM2 Revisited)
Make Land! Not War! (originally cut from the final release, but made available through use of MM2 Revisited)
The vehicle showcase shows a 3D render of the in-game car placed in front of a real life photograph. This also applies to the Double-Decker Bus, the London Cab, and the City Bus because they are all fictional vehicles.