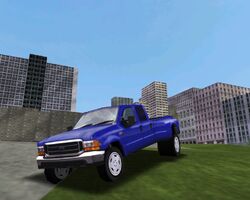 The Ford F-350 is a standard vehicle unlocked from the very first time you play Midtown Madness 2 and the original Midtown Madness. It is the only default player-drivable pickup truck in both the standard game and Midtown Madness 1. In HQTM Team's Classic Madness mod, it is replaced by the old Chevrolet 3100, although certain aspects of it appear to be broken.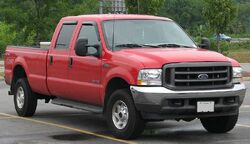 The Ford F-Series started out in 1948, with the original lineup being numbered F-1 to F-8, in order to replace Ford's line of car-based pickups. The most iconic F-Series was introduced in 1953 and began using 3-digit numbers to designate its vehicles. This generation of F-Series was renamed the Mercury M-Series in Canada. It is also this generation that many hot-rods have been based upon. The third generation used a more boxy design introduced in 1957, before it recieved a facelift in 1961. 1967 and 1973 saw more facelifts, as the general shape of the F-Series failed to change. 1980 saw a slightly rounded model appear, which was facelifted in 1987 and again in 1992. 1997 saw a brand new F-Series appear. The design used a smoother body, typical of most cars of that era, and introduced the Super-Duty series in 1999, upon which the F-350 was based. The F-Series Super Duty was significantly larger, allowing more goods to be carried than a regular F-Series, as well as using styling-cues similar to previous generations. The regular F-Series recieved a redesign in 2004, while the Super Duty did not change until both lines were updated in 2008, both using styling cues from the previous Super Duty line.
In-Game Description
Edit
While the F-350 is not normally a race car, the truck's durability helps create shortcuts through any terrain.
Top Speed: 105 mph
Horsepower: 235 bhp
Mass: 5,000 lbs
Durability: High
Available Colors
Edit
Blue
Black
Green
Red
White (originally cut from the game, but made available through use of MM2 Revisited)
Tan
Yellow
Silver
Ocean Blue
In Midtown Madness 2, the F-350 has new engine sound effects, and this is also the only vehicle from Midtown Madness 1 to have its horn sound effect changed entirely, so all the sound effects for it have been changed altogether, unlike all the other default vehicles reused from MM1. The older sound effects can be used again by extracting them from the core.ar file for Midtown Madness 1 and modding the second game.
For unknown reasons, the white color was cut from this vehicle in Midtown Madness 2 (as mentioned above), but all the files for it can still be found in the mm2core.ar file and added to the vehicle itself by modifying vpford.info file.
Community content is available under
CC-BY-SA
unless otherwise noted.