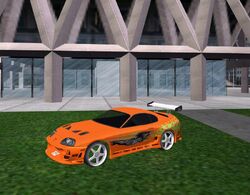 This is an add-on car availible for download from
Midtown Madness 2 eXtreme
, using the model of the Toyota Supra from the Fast and Furious movie
[1]
. It was uploaded as an early beta version by Tah on September 19th 2003. It has been downloaded over 30,000 times.
This beta version lacks an interior, the bottom part of the car and the shadows, however the model is good and has scratch-made sounds, and a very realistic tuning.
Toyota Supra
Edit
The Toyota Supra was a sports car produced by Toyota Motor Company from 1978 till 2002, as the successor to the Toyota 2000GT. The MkI (A40) Supra was based upon the Toyota Celica liftback, but longer - as was the MkII (A60) Supra. In 1986, the MkIII (A70) Supra was launched, and the Supra became its own model and was no longer based on the Celica. With the MkIV (A80) Supra launched in 1992, Toyota took a big leap in the direction of a more serious high-performance car, with a much more modern look as well. Due to restrictive emission standards, the MkIV Supra completely ceased production in 2002. However, a few hints have been dropped that there could possibly be a MkV Supra, but this has been pointed at different directions.
Fast and Furious
Edit
The Fast and the Furious was released on DVD on January 2, 2002. A second print known as the Tricked Out Edition was released on June 3rd 2003. A sequel, 2Fast 2Furious, was released on September 26th 2006, while The Fast and the Furious: Tokyo Drift was released on July 28th 2009. Many modified sports cars are featured in the films, and many have been released for Midtown Madness 2 download, the most notable being the Volkswagen Jetta, Toyota Supra, and Mitsubishi Eclipse.
Stats (Fast and Furious car)
Edit
Top Speed: 230 mph
Horsepower: 600 bhp
Mass: 1550 lbs
Durability: Very Low
Availible Colours
Edit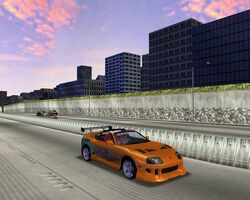 Triple_X released their own version of the Fast and Furious Supra on April 3rd 2011
[2]
, that has been downloaded about 2,000 times, mainly because the original version was so popular. It features a complete model with all the features of the original version and more, including a new dashboard and convertible roof.
Community content is available under
CC-BY-SA
unless otherwise noted.