This is an add-on car availible for download from
Midtown Madness 2 eXtreme
, using the model of the Mitsubishi Eclipse from the Fast and Furious movie
[1]
. It was uploaded by Tah and CMTegner on May 3rd 2003, and has been downloaded over 24,000 times.
The car has a good-looking 3D model, semi-transparent windows, a 3D GT style interior, good textures with the one paint job from the movie and damage textures, the Aston Martin DB7 Vantage dashboard, scratch-made sounds actually recorded from the movie, green neon glow at night (present when the reflection.ar file is put into the game directory), and a very realistic tuning.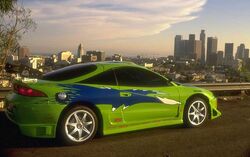 Mitsubishi Eclipse
Edit
The Mitsubishi Eclipse was a coupe produced by Mitsubishi Motors and Diamond-Star Motors (DSM) from 1990 to 2011. A convertible body style was added for the 1996 model year. According to Mitsubishi, the car was named after an 18th century English racehorse which won 26 races. The first generation (1G) Eclipse was also called the Plymouth Laser and Eagle Talon; the second generation (2G) was also called the Chrysler PJ platform; the third generation (3G) was also called the Chrysler ST-22 platform; and the fourth generation (4G) was also called the Mitsubishi PS platform. Throughout its life, the Eclipse was availible in many RS, GS, and GT models.
Fast and Furious
Edit
The Fast and the Furious was released on DVD on January 2, 2002. A second print known as the Tricked Out Edition was released on June 3rd, 2003. A sequel, 2Fast 2Furious, was released on September 26th, 2006, while The Fast and the Furious: Tokyo Drift was released on July 28th, 2009. Many modified sports cars are featured in the films, and many have been released for Midtown Madness 2 download, the most notable being the Volkswagen Jetta, Toyota Supra, and Mitsubishi Eclipse.
Stats (Fast and Furious car)
Edit
Top Speed: 176 mph
Horsepower: 420 bhp
Mass: 2822 lbs
Durability: Low
Availible Colours
Edit
NOS version
Edit
A NOS version was released earlier on November 9th 2002 by zZenom[2]. It is pretty much the same as the regular version, but with more transparent windows, and obviously the NOS effect. It also has a detailed dashboard (the regular version uses the Aston Martin DB7 Vantage dashboard). This version has been downloaded over 36,000 times, as well.
Community content is available under
CC-BY-SA
unless otherwise noted.