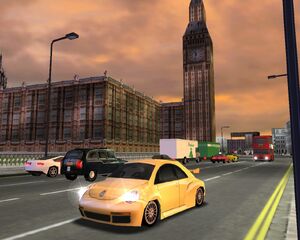 Circuit mode is a competitive game mode in Midtown Madness 2.
Circuit races are the most conventional form of racing. Essentially, the goal is to complete several laps of a closed circuit in first place. Notably, traffic vehicles never appear in Circuit races, as the entire track is blocked off with breakable barriers that appear nowhere else in MM2, with the exception of the London Checkpoint race, Circuit Within.
There are 20 Circuit events in total (by default), with 10 in each default city. Completing five races in London will earn you the VW New Beetle RSi, while you earn a VW New Beetle Dune in San Francisco. Victory in all 10 races, will earn you the "Meow" paint job for the Dune and the "Team Emon" paint job for the RSi, in each city respectively.
Some fan-made cities also include Circuit events, although they rarely offer prizes.
Falcon Circuit

North End Circuit

Alber Hall Twirl

Short Circuit

Metro Madness

Penultimate Circuit
Tiny Triangle

Seaside Sprint

Tunnel Rumble

Quantum Leap

Whole Nine Yards

City at Bay

Alley After Alley

Uphill Struggle

Drive-By Circuit

Motorway Madness

Across the Neighborhood

Supersonic Circuit
Peaceful Neighborhood
Empire State Building
Midtown New York
Riverside Tour
Hot Pursuit
Civic Center Frenzy
No Wake!
Industrial Circuit
Rage Cops (Anterior)
Reverse Step!
Rage Cops (External)
Expressway
Morning Walk
Hancock Shalom
River Lapper
Across the Michigan
Midtown Circuit
Bridge Stone
Get off the Road!
Snail Trail
River Cross Circuit
Chicago Run!
Sonoma Raceway
[
]
Windy City & Mini Windy City Edition Racepack
[
]
Windy City Racepack
[
]
Soldier Sellout
Built Ford Tough
7th Inning Stretch
North River Rush
1-90 Interchange
Chaotic Cube
Industrial Work
Panoz Party
Heart Breaker
Flyer Freeway
Out of Service
Jay's Blue Yonder
Streeterville Showdow
King's Circuit
Madness Finale
Mini Windy City Edition
[
]
Rods Rambunctious
Shedds Grand Opening
Tight Turns
Snow Day
Freightliner Frenzy
Square Off
Buckingham Speedway
Race by the Lake
Parking Ramp Clash
Birds Eye View
Tunnel Work
Dearborn Disaster
Scary Staircases
Fountain Frolic
Porangi
Chicago Rebellion Racepack
[
]
McCormick Circuit
Return to Meigs
Northside Sprint
Lakefront Laps
Chinatown Showdown
Figure 8 Plaza
Burning Bridges
On the Run
Highway Robbery
Tunnel Tour
Uptown Tangle
Le Grande Loop