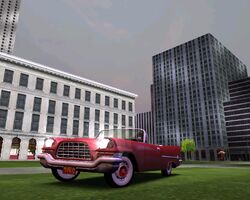 The Chrysler 300 C is a car included in
HQTM Team
's
Classic Madness
mod. It replaces the standard
Ford Mustang Fastback
with this Americana-styled convertible.
The Chrysler 300 series was started in 1955 as a line of luxury performance cars, with a new model released each year. Earlier models (the 300 and 300B) remained close to other luxury sedans of the era. 1957's 300C is considered as the "classic" year for the car, when dramatic fins were added to give a new look to the car. This styling slowly phased out of the car until the 300L in 1965, which was the last in the original line. In 1970, Chrysler revived the line as the Hurst 300, a powerful muscle car, and again in 1979 as a special edition of the Chrysler Cordoba. The 300C returned to Chrysler's production lines in 2005, as a small luxury sedan, which also served as the base for the new Dodge Charger. The line was then revamped in 2011, when a new deal was reached between Chrysler and FIAT, part of which allowed the 300C to be produced as the Lancia Thema in Italy.
Top Speed: 156 mph
Horsepower: 375 bhp
Mass: 4235 lbs
Durability: Medium
Available Colors
Edit
Community content is available under
CC-BY-SA
unless otherwise noted.