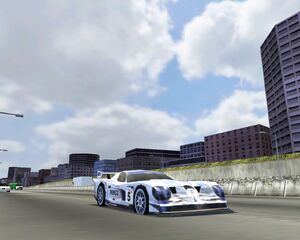 Checkpoint is a competitive race mode in Midtown Madness 2.
The main goal is to pass through all of the checkpoints, revealing the finish line. To win, cross the finish line first.
There are 24 default Checkpoint races in total, with 12 in each city. Completing six races in London will earn you a Panoz GTR-1 and an Audi TT in San Francisco. Victory in all 12 races in San Francisco will earn you the "Big Kitty" paint job for the Audi TT, and successfully completing all London checkpoint races unlocks the "Secret Shadow" paint job for the Panoz GTR-1.
Some fan-made cities also include Checkpoint events, although only a very few of them offer prizes.
Rush Hour
Time Square Fency
1960 Central Park
24 Hours In A Row
Without Faith. No Law.
Intrepid Jump
Zigzaging Highway
Ambient Manhattan
Industrial Road
Atmospheric Blue Light
Around Highway
No Place Feels Like Home
Bus Party
Goodbye NY
Fresh Start
Mall Shootout
Chicago Tour
Impact
Check 'n' Move
Alley Smash
Just Mustangs
City Sprint
Split Ends
Night Sky
Outback Takedown
The Final Force
Windy City & Mini Windy City Edition Racepack
[
edit
|
edit source
]
Lickety Splits
Meigs Filtration Fix
Spin Cycle
Splish Splash (Windy City Racepack)
Smashing Through the Snow
Aquarium Break-In
Cruise Control
Crushing Corner
Old Town Headache
Traffic's All Tangled Up!
Chicago Madness!
Loop-De-Drag
Navy Pier Crunch
Staircase of Death
Chicago Celebration!
Chicago Rebellion Racepack
[
edit
|
edit source
]
Road Rash
High Noon
Splitting Hairs
Collision Course
Going South
Starlight Fight
Downtown Derby
Around the City
Full Throttle
Outward Spiral
Evenfall
Toxic Exhaust
Community content is available under
CC-BY-SA
unless otherwise noted.