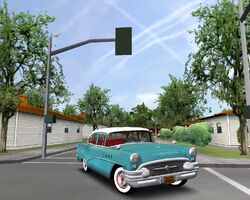 The Buick Special is a car released in HQTM Team's Classic Madness mod. It fills the 21st spot on the car selection screen (which is normally blank), with a large American luxury sedan. It uses the same in-game platform as the Ford Mustang GT, while its police variant, the Buick Special Police replaces the Ford Mustang Cruiser.
The Buick Special was introduced in 1938 as the marque's entry-level full-size automobile, alongside the Buick Century, and lasted until 1942. The second generation was released in 1954 and lasted until 1958, by which it had become one of America's best-selling vehicles, and had many variants, including coupe and convertible models, as well as the Buick Special Police car. 1961 saw a new Buick Special hit the scene, which modified the line into a series of powerful muscle cars. A further redesign in 1964 saw the car transformed into a more modest vehicle, before the line was discontinued completely in 1969. However, the "Special" marque returned in 1975 for the Buick Century Special, a sports version of the now smaller Century line. Although the Special never resurfaced, the Century went on to become Buick's mid-size vehicle, following a conversion to hatchback form in 1978, a small sedan in 1982 and a family car in 1997, before the line discontinued completely in 2005.
Top Speed: 105 mph
Horsepower: 150 bhp
Mass: 2749 lbs
Durability: Medium
Community content is available under
CC-BY-SA
unless otherwise noted.