The Bugatti Veyron is an add-on car available for download on Midtown Madness 2 eXtreme. It has been downloaded close to 20,000 times, and was uploaded by Midtown Madness 2 Riva on January 20th, 2009. It was converted from the model used in Need For Speed: ProStreet.
The car features a detailed model with transparent windows, 3D wheels, damage textures, 10 different paint jobs, a realistic interior, realistic sounds, a beautiful dashboard, and a great performance.
History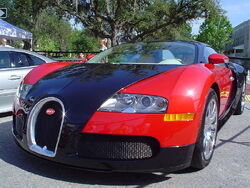 Bugatti Automobili S.p.A was originally founded in 1909. However, it wasn't until 1991 when they produced the Bugatti EB110, which was capable of hitting 213 mph and 671 bhp. There was also an SS version which could reach 217 mph, beating the Jaguar XJ220's record (but quickly losing to the McLaren F1). In 2000, Volkswagen Group purchased the right to the Bugatti marque, and soon after, Bugatti Automobiles S.A.S. was created. They released the Bugatti Veyron in 2005 - it was the first car ever capable of reaching 250 mph, and broke dozens more records. The last Veyron 16.4 was sold in 2011. However, the Bugatti Veyron Grand Sport (a convertible version) and the Bugatti Veyron Super Sport (an improved version) are still in production. The Super Sport raised the top speed record to 268 mph, reclaiming the record from SSC's Ultimate Aero TT (256 mph).
Stats
Top Speed: 255 mph
Horsepower: 1,001 bhp
Mass: 4,162 lbs
Durability: Very Low
Available Colours
Red/Black
Blue/Blue
Black/Black
Blue/Black
Violet/Violet
Pearl/Polar
Red/Red
Green/Ebony
Titanium/Black
Grey/Silver