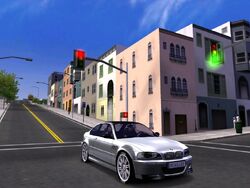 The BMW M3 CSL Concept is an add-on car availible for download at Midtown Madness 2 eXtreme[1]. It was uploaded on August 24th 2004, by HQTM Team. When it was released, HQTM Team said it was their most detailed vehicle yet. The car has been downloaded over 19,000 times.
The car features a highly-detailed, scratch-made 3D model, with 3D wheels, a realsitic interior, 2D dashboard with night version, hands on the dashboard view (when some paint jobs are used), eight different paint jobs, realistic sounds, and a very good performance.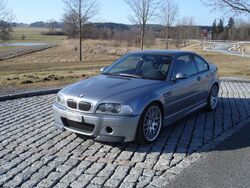 The BMW M3 is a high-performance version of the BMW 3 Series, developed by BMW's in-house motorsport division, BMW M. Based on the 1986 model year E30 3 Series, the first M3 was introduced as the E30, and lasted until 1992, when the E36 M3 was created. It was the first M3 powered by a six-cylinder engine, and lasted until 1999. The E46 M3 was created in 2001, and then came the M3 CSL in 2004. It was not availible in the North American market and, as the name suggests, an emphasis was put on reducing weight. The entire suspension system was also furthur redifend, along with many other features. The E90/92/93 M3 replaced the E46 in 2007, and is still on sale today.
Top Speed: 155 mph
Horsepower: 360 bhp
Mass: 3,052 lbs
Durability: Medium
Note: The damaged body paint jobs have hands on the wheel in dashboard view. The HQTM Orange and Green paint jobs also have hands on the wheel in dashboard view.
Silver
Silver Dmg
Red
Red Dmg
Gold
Gold Dmg
HQTM Orange
Green
The following are add-on colours, that can be downloaded from HQTM Team's website, and put into the game using MM2 Car Skin Changer:
Black Pearl (additional)
Chrome Black (by Cihan Tiftik)
Electric Shock (by Znag)
Gold (by Znag)
Ice (by Frost)
Zarowka (by Frost)
Black (by Dziki)
Green Bit (by Czapla)
TPG Team (by Jose)
BMW Sport (by moryss)
Manga (by Frost)
Avon (by Frost)
Heyah (by Lukas)
Aljazeera (by Paul167)
National Geograph (by Pio167)
AC Schnitzer (by Frost)
666 (by Frost)
Tuned (by Frost)
Dragon (by Frost)
Rrrage! (by Paul167)
Sonic (by Dziki)
Community content is available under
CC-BY-SA
unless otherwise noted.